Guide To Bondage Sex Toys
Big Guide To Bondage Sex Toys, & Our Bondage Sex Toy Reviews
Enjoy this complete guide to bondage sex toys: your bondage sex toys 101 class starts here!
Bondage is incredibly popular within the world of BDSM – in fact, the B stands for Bondage. For BDSMers who enjoy bondage as part of their kinky pleasures, being restrained physically often allows for mental and emotional liberation. Being consensually bound can be very therapeutic, as well as providing a fun, sensual and erotic experience.
What are the important elements of safe, consensual and fun bondage? As usual with shared adult pleasures, communication is a key component. It's imperative that it's clear that everyone involved is happy with every aspect of the bondage, at all times throughout the experience. Is it the type of bondage you're into, whether you're the one being bound, or the one doing the tying up? Is the bondage restrictive enough for your liking -or is it too restrictive? Do you have a way to 'safe out' if and when it all gets too much, and you need to stop proceedings immediately?
Bondage Sex Toys 101
What can you use to restrain someone (or enjoy being restrained) in bondage? That's where bondage sex toys and bondage accessories come into their own, and why I've taken the time to write this guide to bondage sex toys. It helps having some background knowledge of just what's available in terms of bondage equipment, and why it's important to use items specifically designed for bondage rather than any old belt, strap or rope you happen to have around the house.
Wait, why can't you just use anything for bondage? Well, you could in theory, but it's not entirely safe. And safety is top priority, and especially when it comes to erotic and sexual pleasure situations where power exchange and vulnerability feature. You might think that grabbing a dressing gown belt, a silk tie, some rope from the garage, elastic bands or the garden hose (hey, I don't know what you've got in your house) is genius in a moment of passion, but they don't have the quick-release and other safety features that well-made bondage sex toys have.
Bondage cuffs have a quick trigger release and/or come with a spare key. Bondage rope is anti-chafe -and even then, you're well advised to have a pair of scissors on hand and never use it looped round someone's neck. Bondage gear's buckles, connectors and clips are designed to provide a firm grip without cutting off circulation or becoming a dangerous slipknot.
Plenty Of Choice
Once you begin browsing the world of bondage sex toys, you'll soon discover that not only is there a huge variety of bondage accessories, there's a lot of difference in price, quality and design style even within one sub-category of bondage products. It can be confusing to know which ones are best for you and your restraint-based desires. Do you have to spend a lot, or are the lower-priced bondage toys ok? Does material matter? And what exactly are those things? I hope this guide to bondage sex toys and equipment will be invaluable to you.
My advice is to consider the following before making a bondage sex toy purchase:
Your budget.
Storage space.
If you'll actually use it -and how.
If (as for many of us) budget is an issue, then there's no shame or safety issues in choosing a lower-priced but still well-designed bondage sex toy. Where will you keep it when you're not busy tying each other up?
That set of dungeon stocks might look tasty but it could be a pain to hide away if you have family, visitors or maintenance people roaming the house. And will you actually use the thing that's captured your attention on a bondage gear website? If you're not sure whether you have a CBT penchant, perhaps purchasing a humbler is an overly brave move.
Finally: talk to your bondage partner about how you'd like to start or continue your bondage adventures together. It's not ideal to spring your new bondage gear on your submissive (or Dominant!) during sex or a power exchange session -instead, broach the subject before you buy and outside of the bedroom or erotic scenario. Remember, everyone needs to be happy and comfortable about proceedings, and actively consent, at every stage of the bondage game.
Your Guide To Kinky Restraints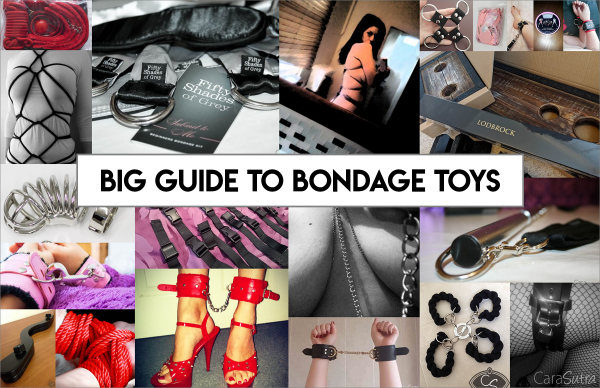 With the above pointers and tips in mind, let's take a deeper look at the world of bondage gear in my big guide to bondage sex toys.
Handcuffs / Wrist Cuffs / Ankle Cuffs
A metal pair of handcuffs remains perhaps the most recognisable of all bondage accessories. It might surprise you to learn that far from being the most popular bondage sex toy amongst BDSMers, they're usually rejected in favour of other types of cuffs. Metal handcuffs are seen as mainly a novelty item, best suited to being waved around but not used on hen and stag nights, and as part of sexy police role-play costumes. They're just not comfortable to wear round the wrists and can actually cause unintended discomfort, bruises and even damage due to their unforgiving and rigid nature.
Instead, opt for wrist (and/or ankle) cuffs made from a flexible material which can still provide that reassuring grip of bondage thanks to clips, buckles and other fastening styles.
You can find wrist cuffs and ankle cuffs made from leather, faux leather, styled bondage rope, neoprene, suede and even silicone. Some of them buckle up, some clip together, some are even lockable. They're comfortable without risking unwanted discomfort, chafing or more, and still provide that intensely erotic bondage experience.
Some wrist cuffs and ankle cuffs feature additional D-rings to which other bondage accessories can be attached, such as the trigger clip of a leash, the straps of an under-mattress restraint set, or to form useful anchor points in rope bondage.
Bondage Rope
Rope bondage is an intricate kinky art which results not only in reassuringly inescapable bondage, but also some gorgeous rope harnesses and suspension shapes. Shibari is a Japanese form of rope bondage with particularly artistic bindings. It can be difficult for a beginner to replicate such advanced rope-work, but by building up from easier loops and practising more simple rope restraints you're sure to become a rope master (or mistress) in no time. Bondage rope can be used to transform a clothed or naked body into a breath-taking work of kinky art.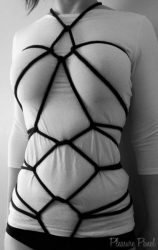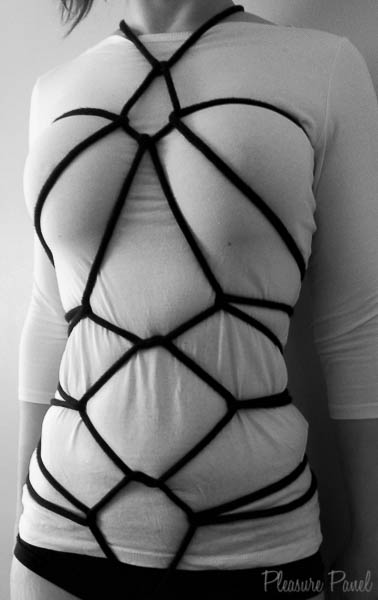 Bondage rope is different to ordinary rope in that it is designed not to chafe painfully or cut into the skin. If you use ordinary rope you may suffer rope burns, deep welts or worse. If you wish to experiment with rope, there are various styles available at low prices, such as hemp rope and silk rope.
It's advisable to always have a pair of safety scissors close at hand when practising and enjoying rope bondage, so there's always an immediate means of freeing the one bound. You never know when they may be urgently required. Also, never place the bondage rope around someone's neck to bind them, and always only use the knots and ties recommended in various bondage guides and manuals.
Bondage rope is available in various material types, as mentioned, as well as different lengths depending on what you'd like to use it for. Some bondage fans enjoy rope harnesses while sitting, standing or lying down. Others enjoy the suspension aspect of bondage, where rope and/or other bondage accessories are used with securely anchored features and furniture, plus kinky accessories like anal hooks and spreader bars.
Enjoy all our bondage rope reviews.
Bondage Tape
If you don't feel quite ready for bondage rope, or rope just isn't your thing, why not try bondage tape? A roll of bondage tape is extremely affordable no matter your budget, and it's easy to use. This cleverly designed tape is made to stick to itself, but not to skin, so it can be safely used even over your most sensitive areas. It's available in a range of bright and funky colours, as well as traditional 'kinky' black.
This restrictive tape can be used to restrain your partner round their wrist, ankles and elsewhere, or you might choose to create a mouth gag with it, a secure blindfold or even fashion a highly kinky and revealing outfit. Bondage tape is such a versatile bondage toy and addition to your kinky toy box; I believe everyone should have at least one roll in their BDSM play kit.
Enjoy our bondage tape review.
Spreader Bars
Spreader bars are made from rigid materials like metal, to provide a completely inflexible bar designed to keep wrists and/or ankles firmly apart during erotic play sessions. These slim but rigorous bars usually have D-rings or O-rings at each end, or another type of fastening area to which your bondage cuffs, rope or other type of restraint can be securely attached.
A spreader bar is usually used between the bondage fan's ankles, knees or thighs to keep legs apart during power exchange sessions, heightening the vulnerability felt by the one bound and allowing the one in control to wield their dominance in complete freedom and in intensely exciting ways. Spreader bars can also be used in front or behind a consenting bound person, to keep their wrists/arms apart. They're fantastic tools to keep the submissive spread, accessible and at the (consensual) mercy of their Dominant play partner.
Enjoy all our spreader bar reviews.
Under Mattress Restraints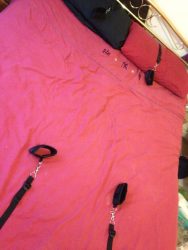 Most couples have at least a double bed so a great way to start enjoying bondage is to purchase one of the under-mattress restraints sets which have ties that are easily placed underneath a double, queen or king-sized mattress. Wrist and ankle cuffs attach to tethers and bondage is then easily enjoyed before, during or after chosen usual role-play or lovemaking activities.
Bed restraint systems are also perfect for those who don't have a headboard which can be used along with traditional cuffs, such as foam or padded styles. If you do have a headboard which has sturdy bars, then I would advise using comfortable leather or neoprene cuffs if these are your chosen method. Metal cuffs are uncomfortable and can even cause damage, as mentioned earlier in this article.
An under-bed bondage restraints set is an easy way to enjoy the bondage sensation of cuffs in the comfort & familiarity of your own bed.
Click to read my under mattress restraints set review